Together, we can go further.
At Hitachi Vantara, we believe that flexibility, agility, collaboration and partnership are critical. That belief is reflected in how we prioritize partnership enablement, flexibility and profitability.
In a time when all business is digital, the value of data has never been greater. Nor has the opportunity for partners, as organizations work to make the most of their data to optimize business performances, make decisions and scale digital products and services.
Partners can leverage Hitachi solutions across storage, cloud services, industrial software, data fabric and IoT to create differentiated outcomes for their customers. Our approach to partnership is win-win, with programs that are Predictable, Profitable and Pioneering. Our proven solutions from across our integrated portfolio help you exceed customer expectations. Expand your own services catalog and use our automation tools to grow profitability. Help your customers transform from IT as a service to an innovation center.
Our partner program framework is designed to be flexible and adaptable as partners evolve their business models. Partners can participate in one or more business models, whether you are a traditional reseller, a managed service provider, software developer, or systems integrator. You can choose the right mix of focus areas across Hitachi Vantara's hybrid cloud infrastructure, intelligent data operations, and data-driven solutions.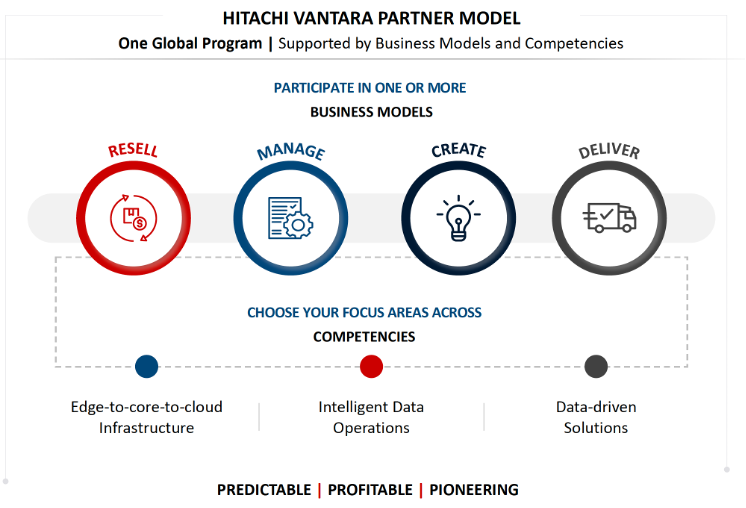 Let's drive success together. Learn more about the Hitachi Vantara partner advantage.
Ready to join? Sign up here.
Image Credit: Hitachi Vantara