As the central nervous system of the enterprise, the data center's ever-present weakness is congestion – data traffic jams that occur when connections are overloaded causing problems like low bandwidth and spotty performance, lost data and network outages.
Most congestion problems are caused by over-utilization of Fibre Channel connection points that reside between storage and compute processing resources. The Cisco and Hitachi Vantara Adaptive Solution for Converged Infrastructure helps avoid network congestion in the data center. The integrated solution brings together the best of compute, networking, storage and virtualization technology to identify connectivity issues preemptively, giving data center operators visibility across deployment, monitoring and management domains.
Cisco Nexus Fabric Dashboard Controller (NFDC) with SAN Insights combines with Hitachi Ops Center Analyzer to identify potential congestion areas, allowing administrators to tackle problems before they can bring down the network.

Hitachi Ops Center Analyzer gives end users a holistic view of their data center resources with end-to-end metric collection and visualization.

Ops Center Analyzer provides root cause analysis via Analyze Bottleneck.

Cisco SAN Analytics offers end-to-end visibility into SAN topology via telemetry that's built into the Cisco Nexus, along with port guard features to avoid congestion.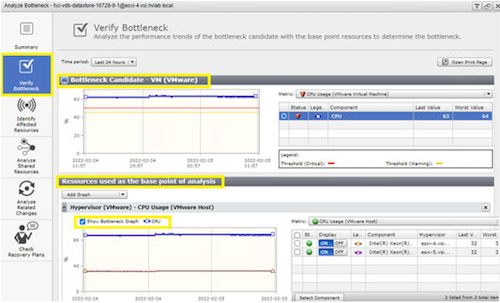 Gone are the days of hunting for the data center network problems. To fully appreciate exactly what you can do in your environment to help your customers avoid data traffic jams, take a look at the best practice paper The "Cisco and Hitachi Adaptive Solutions with SAN Analytics" Best Practices Guide. This paper will open the door to a traffic-jam-free environment and a more resilient, better performing enterprise.