The video surveillance opportunities are growing, with experts predicting the market will grow from $48.7 billion in 2022 to 76.4 billion in 2027, a 9.4% compound annual growth rate.
That growth is being driven by advances in computer vision, machine learning, and camera quality, which make it possible to detect and track objects like people, vehicles and objects in real time. Video surveillance, once largely used for safety and security, is being used more broadly across industries, whether to detect oil spills, for real-time quality control on the manufacturing floor, keep university students safer on campus, or to improve the shopping experience.
Video surveillance and analytics generate staggering amounts of data, which presents new challenges in storing the data and making it accessible to users. Video surveillance systems must also meet stringent requirements for availability. Requirements for data quality, quantity and archiving may vary by security application, but if service levels are not met, organizations could suffer financial losses or regulatory fines.
A Converged Stack, Validated Video
To help meet the growing demand for video surveillance applications, Hitachi Vantara and Cisco have come together to create a validated video solution that can scale to more than 10,000 cameras. This converged stack is certified for use with multiple video management systems and video analytics platforms, including Hitachi Video Management Platform and Hitachi Video Analytics.
By combining Cisco UCS X-Series Modular System with Hitachi Vantara VSP E Series midrange storage, organizations have the performance and redundancy they need to support their video surveillance applications. Every component of the stack, including server blades, fabric, storage controllers, network interfaces and drives are fully redundant, ensuring that there are no workload interruptions.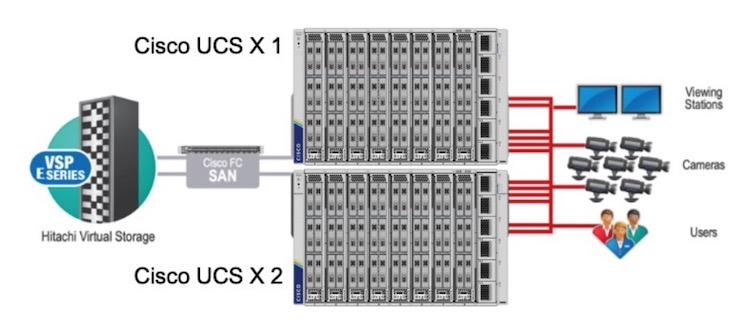 The integrated Hitachi Vantara and Cisco solution takes into the unique characteristics of video. For instance video recording requires random writes to storage, while drive reads are spiky because the video management system serves both live and recorded video to the users. Compression rates also vary, based on algorithms, camera scenes and camera types. The Hitachi Vantara and Cisco converged stack takes these factors into account.
Image Credits: HItachi Vantara