When organizations get hit with ransomware they are faced with a formidable task: How do they get up and running without taking down the production network?
In many cases, companies go offline for three weeks before they can recover and return to full productivity after a ransomware attack.
By integrating Hitachi Vantara Ops Center Protector with VM2020 CyberVR thin digital twin technology, companies can now recover and re-connect back into production inside of hours versus weeks. It's billed as the world's fastest ransomware recovery.
Ops Center Protector offers immutable storage that attackers can't tamper with, delete or encrypt. Hitachi Vantara Ops Center Protector then integrates with CyberVR, software that discovers workloads and their characteristics to create thin digital twins.
Unlike traditional digital twins that need ample storage capacity to run, thin digital twins can map zero-footprint snapshots of the data – or clones of the data – to hypervisors, software defined networking, and container platforms. And while traditional digital twins can sometimes be obsolete by the time they're ready for use – because of the lengthy copy and configure process – the integrated automation engine within CyberVR can simulate the production IT environment almost instantly – and at much less cost.
"With a single click, CyberVR creates virtual air-gapped networks that mimic the production network topology and leverages Ops Center Protector's capacity-efficient SnapOnSnap mechanisms to instantly restore full copies of the production environment to the isolated networks without risking the integrity of the underlying snapshots," explains Elias Benarroch, CTO of VM2020 Solutions. "With a single click, CyberVR creates an exact copy of production from any available point in time in minutes, regardless of the size or quantity of the VMs and without consuming physical storage."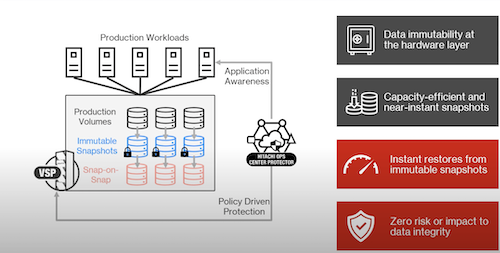 Benchmark Tests and Added Simulations
Benarroch pointed out that when VM2020 joined forces with Hitachi Vantara recently, they achieved some record-breaking speeds. When they integrated the two technologies, the companies quickly recovered some 1,500 VMs with more than 100TB of data in 70 minutes.
But ransomware mitigation doesn't end with just recovery. Increasingly, CyberVR has been used to simulate attacks. Leveraging the thin digital twin technology, the platform lets organizations simulate compromises, determine the threat levels of individuals, and estimate possible damages and more.
In creating simulations, Benarroch says the applications teams can test upgrades, patches and new applications; the security teams can do pen tests, forensics and control validations, and operations teams can accelerate DevSecOps workflows and prove and test the ransomware recovery scenarios.
"The security teams really love the CyberVR concept," Benarroch says. "The ability to spin up a digital twin so they can test malware, attack their systems, do pen testing, do control validations, and forensics without ever having to worry about impacting production systems, that's a benefit that they've never even dreamed about before."
Learn more about the joint Hitachi Vantara and VM2020 solution in this video.
Learn more about using digital twins for ransomware recovery in this blog.
Image Credit: Hitachi Vantara