Big data represents a major shift in the technology landscape. To tackle challenges related to the enormous volume and variety of information, companies are turning to new data stores like Hadoop and NoSQL. But determining the best ways to drive value with these tools can be difficult. Read this eBook to help discover the right path to big data success for your customers.
Optimize the Data Warehouse
Do your customers have more data than they can store in their data warehouse?

Are they being held back by limited data storage and processing capacity?
Offload transformation workloads and less frequently used data to Hadoop to relieve pressure on existing data warehouse infrastructure. Data storage costs can be 5x to 10x lower with Hadoop.
Streamline Data Refinery
Do customers have untapped high-volume data sources that they would like to incorporate into analytics?

Have they seen a rapid proliferation of the number and variety of data sources needed to support business processes?
A streamlined data refinery brings together diverse data sources through a scalable big data processing hub, and it pushes refined information that supports low-latency self-service analytics.
Customer 360-Degree View
A 360-degree view blends diverse operational and transactional data to create an on-demand analytical view across their customer touch points.
Do they have many different—and disconnected—customer information systems?

Do they struggle to reconcile data across multiple CRM systems?
By ingesting data from various sources into a single big data store and summarizing it according to a unique customer ID, you help them can make their data available wherever it is needed.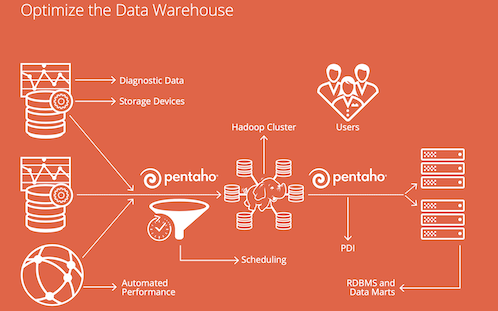 Hitachi Vantara Data Integration Solution at a Glance
Lumada data integration and analytics powered by Pentaho helps you unlock big data value. Businesses can ingest, blend, cleanse, and prepare diverse data from any source for actionable insights. With visual tools to eliminate coding and complexity, Pentaho puts the best quality data at the fingertips of IT and the business. And Hitachi Vantara helps your customers drive data to meaningful outcomes, as data becomes the key to new revenue, better customer experiences, and lower costs.
Read the Unlock Big Data Value: A Visual Guide eBook.
Ready to go deeper? Read the Blueprints for Big Data Success whitepaper.
Ready to get started? Get a 30-day free trial of Pentaho.
Image Credits: Hitachi Vantara Unlock Big Data Value: A Visual Guide eBook