With new technologies that place increasing demands on the power grid, energy companies are seeking solutions that provide flexibility and support sustainability, while maintaining system reliability and security. Smart systems, edge computing, and data analytics are the crux of energy modernization.
Hitachi Energy is answering the call, creating solutions that enable power companies to better monitor their networks and incorporate solar, wind, and other types of renewable power sources. The company has developed OPENVQ, short for Optimized Performance Enabling Network for Volt/var (Q). Power companies can use it to consolidate and analyze data, enabling energy engineers to adjust and control network use on a granular level.
The OPENVQ system assesses data from power-grid assets, monitoring systems, and external sources (such as weather reports and dispatch results) to predict near-term power supply and demand to optimize power grid performance. It boosts efficiency by increasing available transfer capability, reducing transmission loss, and decreasing greenhouse gas emissions due to transmission loss.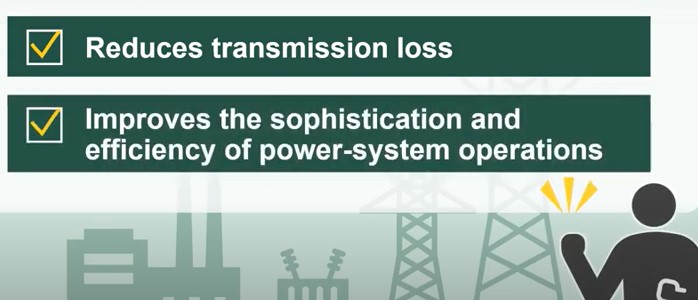 Hitachi Energy OPENVQ
Centralized Substations
Within the substation, the Smart Substation Control and Protection SSC600 is a turnkey solution that integrates centralized protection, control functionality, and monitoring capabilities within a substation. It can be deployed to support basic feeder protection or to consolidate multiple relays into a single device. Measurements from multiple bays are digitized near the source and sent to the SSC600, which handles the control and protection functions for the entire substation. A software-based virtual SSC600 is available with the same functionality as the physical device.
The software, based on the ABB Relion technology, provides engineers a single point to view and monitor activities across the enterprise. It can detect, locate, and isolate faults for improved reliability and supports multiple protection schemes. It can be modified to support changing networks, such as the integration of intermittent renewables.
Having a centralized system reduces network complexity and simplifies updates. The system can be linked to the cloud, where engineers can gain full network visibility. Advanced data analytics improve performance and maintenance, and lower overall costs. The SSC600 has been deployed in the Noormarkku substation, operated by Caruna, Finland's largest electricity distribution system operator.
Thoroughly Modern Grid
The average US power grid infrastructure is about 40 years old or more, so cities are working to upgrade their systems to accommodate current and future power demands. EPB, the power provider in Chattanooga, TN, has installed a fiber optic backbone, smart meters and switches, a redundant distribution network, and digital monitoring capabilities throughout its service area.
With cloud-based centralized management capabilities, the power company can respond to outages more quickly and reduce maintenance costs. Remote access and management of switches and other devices enable crews to prioritize repairs. Smart meters provide EBP with data voltage fluctuations, outages, and other anomalies, which inform power distribution needs and potential problems.
Chattanooga's smart grid has cut the duration of power outages power outages by 60 percent. It has saved the city $1.6 million in annual operating costs and has saved the community about $50 million in lost productivity each year.
Learn more at Hitachi Energy.
Image Credit: Hitachi Vantara / Getty Images