Smart technology is advancing agriculture in dozens of ways, as pint-sized enhancements such as environmental monitoring tools and big innovations such as fully autonomous electric tractors from Monarch are leading to improved crop yields and better sustainability. Farmers and ranchers are also switching to ag tech innovation solutions focused on animal well-being and disease management, using vision tools that can track and monitor animal behavior such as feed intake and detect early signs of illness in livestock.
To succeed with this new crop of smart technology, the agriculture industry should prepare to make improvements at every point in the value chain, according to Udayan Joshi, director of solution architecture, global social innovation business, Hitachi America. That includes adding technology not only in the field, but from production and harvest to transportation, storage, and distribution.
Guiding Adjustments to Farm Operations
At the center of change in the digital agricultural ecosystem are Internet of Things (IoT) devices and solutions that can help farmers do more with less. Sensors and other IoT-enabled devices can gather volumes of critical data related to soil, weather changes, and livestock in real time.
The rapid analysis of this real-time data helps farmers make decisions faster and guides precise adjustments to operational processes. Data analytics help farmers to discover patterns and longer-term opportunities for optimization of their operational and distribution processes, which can lead to better financial returns.
On a pig farm, for example, the largest pigs eat the most, so bringing them to market at their peak results in fatter profits from reduced feed costs and quicker time to market. Temperature, humidity, and even cleanliness can impact a pig's eating habits and growth. IoT sensors that monitor environmental issues, food consumption, and biometrics can help streamline farming operations. Technology solutions such as PigVision from Asimetrix use artificial intelligence and vision technology to give hog farmers real-time information about the average daily weight of their pigs.
Similarly, IoT can help with other vital areas in the supply chain, including food storage. Hitachi teamed up with Happy Cow Creamery to help the family-owned business maintain sustainable practices, produce the best products possible, and help keep its cows happy and healthier.
The Happy Cow Creamery team installed a set of sensors to monitor temperatures in its coolers and freezers. It also monitored water levels of the dairy farm's lagoon and the cows' feed-bin levels.
"If you can digitize and monitor all the environmental factors that go into producing dairy farms and dairy cows and the milk they produce, it enhances the farmer's efficiency. It also produces better quality milk that actually gets to the table and produces better for the environment and is better for the people," explains Dean Bushey, Vice President, Hitachi Global Social Innovation Business.
Hitachi's technology made many aspects of dairy farm management easier for Happy Cow Creamery and continues to deliver better outcomes for the environment.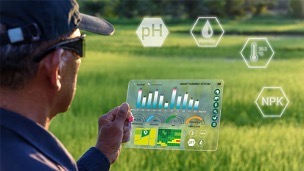 Mapping and Visual Farming Data
Not all agricultural advancements are down in the dirt, as drones are now making their mark, too. The market for drones in agriculture is projected to reach $5.7 billion by 2025. Largely used for field mapping, drones allow growers to view the condition and health of their crops across the entire farm. Drones are also used to monitor livestock and could be equipped to herd animals from above.
For example, Iowa City-based precision agriculture company Rantizo uses drones to apply cover seed, pesticides, and fertilizers. The company combines a drone with autonomous hardware and proprietary software to give farmers a clear picture of their land. With aerial imagery, farmers can home in on problem areas and avoid over spraying, saving money and reducing pesticide resistance.
Farming is a complex landscape with many stakeholders, and there are exciting new possibilities for integrating digital technology into agriculture that will benefit both the individual farm and society. Learn more about how Hitachi focuses on co-creating best-of-breed ag-tech solutions with customers that meet their needs and help meet the world's food supply challenges:
Image Credits: Hitachi Vantara